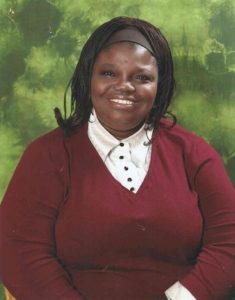 Mrs. Adenike Olagundoye
In her native country of Nigeria Adenike obtained her Bachelor of Education degree, and taught elementary school prior to moving to Canada. When she moved to Calgary she attended Mount Royal College (now Mount Royal University) and graduated with a diploma in Early Childhood Education and has worked in the field for over 30 years. Her contribution in this field has earned her outstanding service award and foster parent of the year.
In her extensive experience, Adenike has worked in various capacities such as providing family support, completing home visitations, working with children, youth and families in early intervention, providing childcare, completing pre- and post-natal care, working in K-12 settings ,and  collaborating with various aboriginal communities, developing and facilitating early literacy programs as well as serving on various boards and organizations.
Currently, Adenike is the proud owner of Dana Daycare Ltd, an accredited childcare facility that offers a successful daycare and preschool program.  She strongly believes that children learn best through play; while in a supportive environment, guided by enthusiastic and qualified early childhood professionals. She is very passionate and committed to working with children as it is a real joy and especially rewarding for her to partake in their growth and development on a daily basis.
Adenike also enjoys mentoring practicum students. She values the opportunity that mentoring provides in building relationships, and motivating students as they embark on their own educational journey.  Her goal is to continue working with students to develop strong skills, competencies and attitudes that can be used to improve the quality of childcare and education delivered to children and their families.
In her spare time Adenike enjoys listening to music and spending quality time with her family and friends.